09 May

Secrets of a Long Life: Hilda Garcia

Photography by Briana E. Heard (@beheardphoto)
Doña Hilda Garcia was born on August 16, 1927 in the Santa Clara province in Havana, Cuba. She is the fifth of 15 siblings.  She has vivid memories of growing up with a strict disciplinarian mother who was raising 9 girls and 6 boys. Her father, on the other hand, was a pushover. She let out a deep belly laugh as she recalled how they used to run through the avocado, cherry, and sweet grapefruit trees on the small farm where she grew up. She knew he favored her and so did her brothers and sisters who often brought up the jealousy they felt for the lack of attention from him.
After her father, her next love was school and reading. In particular, she enjoyed biographies, poetry by Jose Martí, or stories on the subject of overcoming great suffering.  Unfortunately, in those days, school was primarily a benefit granted to boys and so her formal education ended at the tender age of 10. That didn't stop her though. As a teenager, she secured her first job as a maid. In this home, she befriended a young girl who was nearly the same age, and was able to read all her books. For this reason, she loved her job. She said it helped her to cope with having to leave her home at such an early age.
At 28 years old, Hilda obtained a visa and came to New York amidst the historic March 1956 blizzard. I laughed as she mentioned the fact that it was customary for relatives to bring a small bottle of whiskey to the airport to battle the cold weather. Her happy demeanor changed as she recalled moving to Harlem with her loving uncle and his wife who was not very happy to have her there. She coped with what she referred to as "torture" with prayer and by reflecting on all the childhood stories she read, where the protagonist was always victorious.
Hilda was determined to become independent, even investing in sewing classes after being fired from her first job in a factory. Some time later, a friend playing matchmaker, introduced her to the man she would ultimately marry. Hilda lit up as she described her wedding. She was married in City Hall and then came home to a decorated apartment and all of her closest friends. Her uncle even walked her down the long hallway to simulate the church aisle as "Here Comes the Bride" played in the background. It wasn't long before she became a mom and ended her short-lived career as a seamstress to care for her children, a son and a then daughter. Doña Hilda refers to motherhood as the greatest love of all.
This longtime resident of Washington Heights, New York is now a grandmother of four and is very satisfied with her life. After becoming a widow 11 years ago, she now looks forward to visits from her family. This is when she has the opportunity to prepare their favorite meals. The admiration for them is evident from all the photos in her simple home. She is also quite fond of her saints or los santos. When she was growing up, there were no churches nearby. Her mother told her that spirit is within and so she made it her point to create a spiritual haven in her home. As a matter of fact, she has an entire room dedicated to her saints. She also has deep regard for our President, Barack Obama. Like her family portraits, his photos appear all throughout the apartment. On the refrigerator, in the living room, she even keeps a glass with fresh holy water beside his picture.
When I asked this 87-year-old what her secret is to long life is, she quickly responded, "Find your passion and always be with spirit, family and friends." And just when I was about to put away my notes, she stopped me to offer one more piece of advice, "Treat everyday like it's Valentine's Day, love makes all days feel like you are reborn."
"The oldest trees often bear the sweetest fruit" ~ German Proverb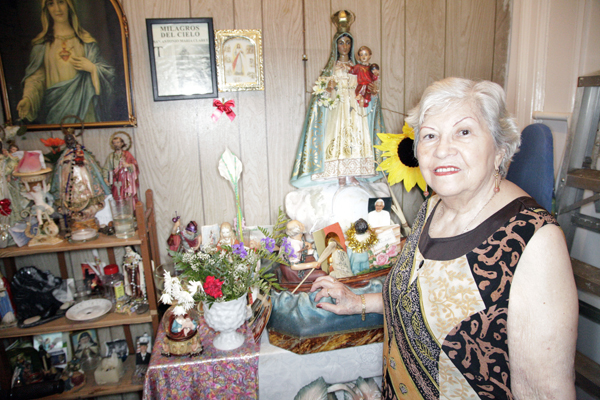 I invite you to Subscribe to my blog | Follow me on Twitter | Like us on Facebook | Follow on Pinterest